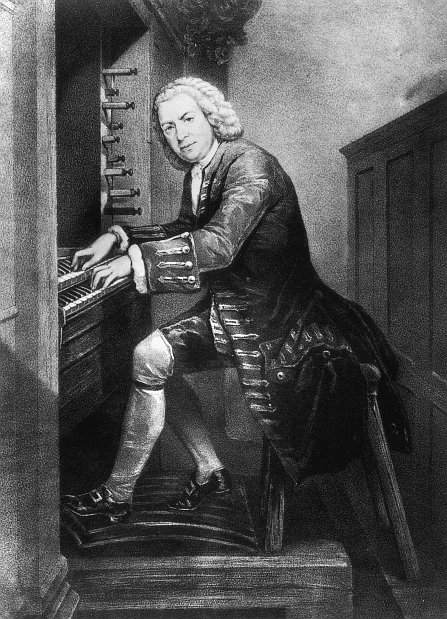 Last night I attended a very good performance of Bach's St John Passion at The Old Royal Naval College in Greenwich. I find it terribly relaxing to sit for 2 hours just listening to music – my average day is so scattered and all over the place that the focus of two hours on music is fantastic.
But I also had time to ponder the programme notes by Peter Foster which talk about Bach's working habits and output.
Work Habits Of Successful Artists
Think for a minute about what you have achieved in the last year? Maybe grab a scrap of paper and make a little list of the jobs you had and the creative work you've produced.
Finished?
Now compare this (quoting from Peter's notes):
He describes how Bach and his family moved to Leipzig on 22 May 1723 to take up the post of Cantor of the Thomasschule (the school attached to the Thomas Church – one of two main churches in Leipzig). Bach was 40 at this time. His first wife had died leaving him with their four surviving children. He had recently remarried.
As well as teaching music and Latin to the 50 or 60 boys at the school… Bach was responsible for the music at four Leipzig churches…Bach's musical forces included the schoolboys, who were divided into four choirs, a few professional instrumentalists, and a number of university students, some of whom studied music with him privately.
Now to me, that sounds like more than a full time job right there – teaching Latin and music at school, teaching privately, organising music for four churches and rehearsing/managing four choirs! Plus a new wife and four kids. But that was only the beginning for Bach. That was his 'day job.' Here's what he got up to in terms of his creative work:
In the first year in his new post, Bach composed a complete liturgical cycle of sixty cantatas, one for each Sunday and major feast day. These were complex, multi-movement works lasting up to half an hour… they were performed by his principal choir, which alternated week by week between the churches of St Thomas and St Nicholas; the second-, third- and fourth-string musicians performed simpler music in the other three churches. 
This in itself would be an amazing outpouring of work – not to mention a logistical nightmare to write, rehearse and perform new cantatas at a rate of MORE THAN ONE PER WEEK (60 over the year) while also coordinating and rehearsing the 2nd, 3rd and 4th musical teams to perform at the other churches. And teach. But that's not all…
Over the next three years Bach completed two further cantata cycles.
If this staggering amount of work doesn't humble you, what if I told you that during this time he also had a wife 17 years younger than himself and together they had 13 children (6 of whom survived to adulthood) on top of the four surviving children from his previous marriage – 10 surviving children in total.
One must point out that these are only his cantatas we are speaking about. Bach also wrote all kinds of other music. Wikipedia (never the greatest source but for illustrative purposes) outlines the 1126 catalogued works that J S Bach composed:
 BWV 1–224 are cantatas; BWV 225–249, large-scale choral works including his Passions; BWV 250–524, chorales and sacred songs; BWV 525–748, organ works; BWV 772–994, other keyboard works; BWV 995–1000, lute music; BWV 1001–40, chamber music; BWV 1041–71, orchestral music; and BWV 1072–1126, canons and fugues.[69]
Working Without Fame
It's also important to note that J S Bach was not really acknowledged for his compositions in his lifetime. His reputation rested largely on his abilities as a teacher and organist. He left a great legacy of pupils, including many of his children, who dominated German music for a long time. But in his lifetime his music was seen as very 'old fashioned.'
We now see Bach as the height of the Baroque style – a master of contrapuntal technique. But in his own day Baroque was considered 'tired' and 'done.' All the  'fashionable' composers had moved on to the Classical style (the style of Mozart and Haydn).
That's not to say that Bach wasn't interested or influenced by contemporary music – he most definitely was and within the framework of his music he was incredibly inventive – but at the same time he stuck to his guns and wrote the style of music he knew rather than trying to chase after the latest fads.
Are you compromising your own style to try and be 'hip?' What if you're right and they're wrong? 
Three Takeaways
I think there are three main takeaways we should all gather from J.S. Bach
Get on with it. There are no excuses. Age, children, work commitments, lack of recognition – none of that really matters. You don't need anyone's permission to be creative except your own. You will never have more time or energy than you have right now. There will never be a perfect stage in your life to be creative, so Get On With It. Produce work, then produce more work. Brian Clark at Copyblogger wrote a great manifesto '10 Steps to Becoming a Better Writer' which lists 1) write 2)write more 3)write even more 4) write even more than that 5)write when you don't want to 6) write when you do 7) write when you have something to say 8) write when you don't 9) write every day 10) keep writing. This manifesto applies to any creative pursuit. Quit making excuses and get on with it.
It's okay to have a day job. The list of amazing artists who necessitated having a secondary source of income is long and distinguished. Stop feeling ashamed or embarrassed about having multiple income sources. Bach was being a responsible father by having a teaching job and once he knew there was bread on the table to feed his brood he used every second he could find to write over 1000 musical compositions.
Don't worry about being current, trendy or hip. Make what you want to make. There are people who will appreciate it. Returning to the programme notes about the St John Passion, Peter Forster writes There is no record of the reaction of the first audience in 1724, but they must have had some sense of how extraordinary a composition it is: how the supreme technical accomplishment of Bach's music is allied to an expressive purpose of complete sincerity and enormous profundity, which is still gripping, nearly 300 years on.
Complete sincerity always wins out over any cynical pursuit of trends.
Make the art that is important to you.
Do it with complete sincerity.
Make as much of it as you possibly can. 
What more can you ask of yourself?