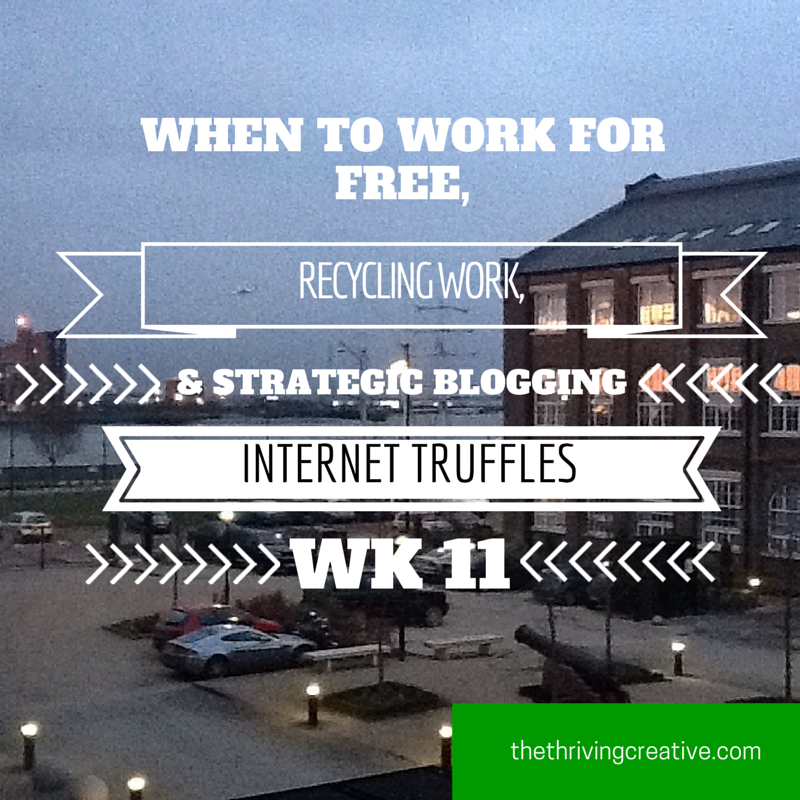 1. Even Disney recycle work – why aren't you?
Feeling like you have to be continuously new and fresh puts you under enormous pressure all the time. It's exhausting and unnecessary. Here's a comprehensive Wiki of how Disney recycled loads of animation cells in their early years. It reminds me of this post I wrote about how nothing is new in art. Quit feeling like you have to reinvent the wheel every time and instead see what you can recycle.
2. You don't need to change the world
Solving problems is so important for a successful business. But as creatives and artists, sometimes the problems we solve are not obvious – we don't fix toilets, we don't get the traffic moving, we don't help you lose those stubborn 15 pounds – we entertain, or provide beauty, or take you on a journey, or make you laugh. But don't underestimate the importance of these things. Here's a good blog post from The Heart of Business (a favourite blog of mine) about how to find the deeper solutions you provide.
3. How to be more strategic with your blogging
Writing a blog is a lot of work and a big commitment. I've been blogging here for over 4 years so I can tell you that sometimes I struggle to come up with things to say that will be relevant. Here is an excellent piece on how to be really strategic in working out an editorial calendar for your blogging. You may not go quite in depth as much as he is, but some of the basic research ideas might help you generate topics that people will actually be interested in.
4. How to work out if you should do a job for free
Working for free is such a tough one. Most artists and creatives get asked to work for free from time to time. Sometimes we think we have to. Most of the time we don't. But occasionally there are good reasons for doing a limited amount of work for free. This is a very good (and quite funny) flowchart to help you decide if you should take on a job or project for free. WARNING: the language is pretty colourful. If you are easily offended by language (hi mom!), or you are at work, then follow this link instead.
5. How to go about doing a life audit
This is a very creative and thorough way of doing a life audit
– sorting through your dreams and goals to find out where your priorities lie and setting some plans in place to achieve them. I recommend skimming through it, even if you don't plan to do it all, just to see how she has structured it and presented the information. Worth a look.