Today I attended a great exhibition at the Courtauld Institute, Becoming Picasso, Paris 1901, which looks at one year in Picasso's output, 1901 when he first came to Paris as an ambitious 19-year-old and proceeded to paint up a storm. The breadth of his work during this period is remarkable.
What is interesting about this work is that he is so clearly drawing on influences from so many different artists – there are works which mimic Toulouse-Lautrec with his Can-Can girls, there are paintings which reference Degas (particularly his bather series). There are influences of Goya and El Greco as well as the Impressionists. All the 'biggies' are there in his work – Rubens, Titian, Gauguin, Manet… Picasso is 'borrowing' from the best. Even at 19 he is living by his later slogan "Bad artists copy. Good artists steal."
Picasso isn't obsessed with finding new subjects. He is taking themes and subjects which his predecessors and contemporaries have used, and exploring them for himself. He doesn't just copy one of those artists – where's the skill in that? But he steals right, left and centre – stealing the core idea or image but interpreting it through his own frame of reference.  
That's the key:  steal from the best and then make it your own.
I can see in my own career where I have been frozen out of a confused and misplaced need to be 'original.' But I can also see other times where a stolen idea as a seed has taken me off on fantastic creative journeys. There is nothing wrong with this kind of stealing.
Let's look at an example from Picasso. As a Spaniard, Picasso would have been familiar with the Velazquez painting Las Meninas (The Maids) painted 1656 in the Museo del Prado in Madrid. Here is Velazquez work: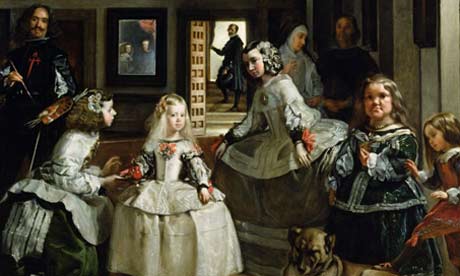 Of particular interest is the dwarf on the right. Velazquez had an interest in Dwarves and painted several portraits of them.
Now look at Picasso's 'stolen' idea:
See how he's taken the core idea, the defiant proud dwarf, but also mixed in huge helpings of Renoir's paintings of ballet dancers. Check out the similarity to this one by Renoir: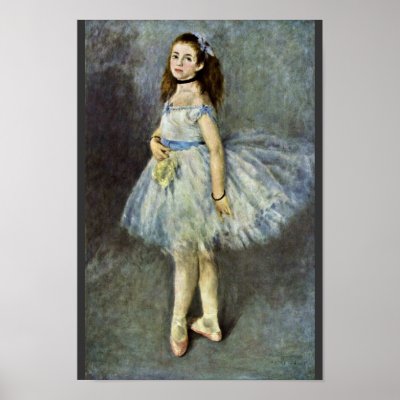 Coincidence? I'd say not. I'd say Picasso was pretty clearly stealing ideas (please be very clear that I am saying this is a good thing!). He has stolen ideas from two great artists and put them together and then let his own imagination work on it to put his personal stamp on things.
But he hasn't wasted time or energy in feeling he has to original! There is virtually nothing original. Everything has been done before so don't waste time and energy trying to be unique. Find your unique stamp on something which already exists. It will be unique because you are unique and if you filter the stolen idea through your own DNA, you will come up with something one of a kind.
Steal from the Best!
Picasso understood this. You don't see him stealing ideas from the guy down the block. Picasso at 19 is stealing ideas from the great masters which have preceded him. You too should focus on stealing ideas from the very best. Don't waste energy on mediocre ideas.
We worry that we won't have anything to add to the work – but the very fact that it has passed through your mind and your body onto the canvass (or page or whatever you are making) means that you will add your own personal stamp on it. I remember a wonderful singer/actor Sarah-Louise Young commenting how you should never worry about singing someone else's song because you will be singing it with your voice and that will be enough to make it different.
Caveat
Make sure you are stealing ideas only. Taking someone else's work and passing it off as your own is theft and violates copyright. This will get you in hot water. Ideas can be legitimately copied.
This is from WIPO – the World Intellectual Property Organisation:
Are ideas, methods or concepts protected by copyright?

Copyright protection extends only to expressions, and not to ideas, procedures, methods of operation or mathematical concepts as such.  This principle has been confirmed by  the Agreement on Trade-Related Aspects of Intellectual Property Rights (TRIPS Agreement) of the World Trade Organization (WTO) as well as the WIPO Copyright Treaty.
Stick to this guideline and you are free to pilfer ideas from the best of them.
Next time you're feeling stuck – think of Picasso and steal an idea from someone great and see where it takes you.
In closing, scroll up to the top of the page and look again at the vivid self-portrait of Picasso.
Now look at this self-portrait by Bernini from roughly 1635.
There really is nothing new under the sun. Quit making excuses.