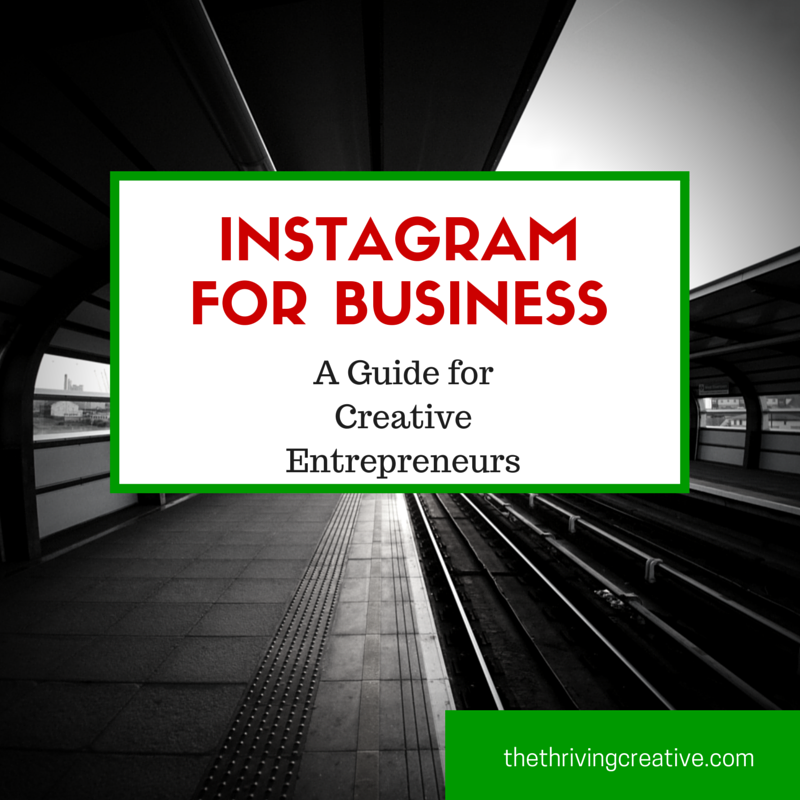 Continuing our theme of:
snuffling out the best of the internet, so you don't have to
this week we bring you the best of the internet on using Instagram for business – specifically for artists, writers, actors, musicians and other creatives.
Why should I use Instagram?
Here's a handy list of Pros and Cons to decide if Instagram for business should be part of your social media profile:
Pros
1. Fastest growing social media platform, especially impressive considering it was established in 2010. With 300 million active users, your work and your brand can reach a wider audience
2. Effective for mobile phone users
3. Hashtags allow users to filter searches
4. Allows your work to speak for itself
5. Paricularly relevant for visual content, .e.g for visual artists
6. Largely used by a younger demographic (teens, 20s) which may be an ideal demographic for many creative businesses and artists
Cons
1. Users are unable to click on URLs (less search engine exposure)
2. There is little room for description of the product or those behind the product
3. Not all products will appeal to the dominant user demographic (teens,20s)
4. Without compelling and engaging content this platform is not ideal
Still unsure?
Here's 13 of the best articles for creative use of Instagram for Business
1. Buffer – Instagram for Business
An easy-to-follow guide to getting starting with Instragram, including suitable posting, using hashtags, linking to other social media platforms and engagement benchmarks.
2. The Abundant Artist – How to Sell Art on Instagram
Following Vogue Magazine's statement that Instagram is the World's most talked-about new art dealer, The Adundant Artist provides a 'how-to' blog post advising on selling art via this social media platform, including producing great and consistent art, embracing the Instagram culture, and identifying and interacting with ideal clients.
3. Vogue – Why the World's Most Talked-About New Art Dealer Is Instagram
This article comments on how Instagram is challenging the high-end art world, as the social media platform helps to launch artists' careers, make art even more accessible to art lovers and collectors, and enable the audience to witness the creative process.
4. Fast Company – Why Every Brand Should Be on Instagram
A recent study by Forrester Research found that Instagram users were 58 times more likely to like, comment, or share a brand's post than Facebook users and 120 times more likely than Twitter users. All data indicates that users are moving away from Twitter and Facebook and shifting their time to Instagram. This absolutely proves that Instagram is the best social and mobile platform for brands to reach audiences that are willing to engage. If you're not marketing on Instagram, you're missing out.
5. The Guardian – Snap Happy: How to Use Instagram
With more users than Twitter, and a great visual impact, Instagram is the go-to social media tool for small businesses.
This article touches on how Instagram encourages brand awareness, as well as sales power, and that with strategy and high-quality relevant and relatable content,  artists/businesses can utilise Instagram as a creative window to their 'brand'.
6. Ayumi Horie – A Guide to Using Instagram for Studio Artists
'Who cares?'  This is the question I ask myself all the time. Who cares about the work I do or anybody does? How do we as a craft community share and grow as a field? How do we get others to care about the things we care about? As social media becomes increasingly omnipresent and critical to small businesses, these questions about the relationship between internal passion and external outreach become more pressing and relevant.
7. The Book Designer – Top 7 Ways Authors are Using Instagram
There are a lot of authors who use Instagram in ways that may be entertaining. It's entertaining in the same way the crazy lady in the grocery store is who pulls out every gallon of milk from the dairy cooler in order to get the one that has the furthest date of expiration. Yeah, it's weird and maybe a little funny, but mostly kind of pathetic. There are plenty of famous authors who evoke that kind of reaction on Instagram. Don't be one of those authors.
8. Creative Review – How Brands Should Use Instagram
…tips for using the platform, offering advice for brands and creatives on hashtags, comments and content.
This blog post follows on from discussions held at an Instagram event in London, commenting on sharing work and knowledge, conversing with your audience, experimenting with original content and sharing your best work.
9. Grub Street – Instagram for Writers
In today's new world of social connectedness, readers have a wealth of information at their fingertips.They are curious, wanting to know everything they can about the individuals that bring them the books that they love. They want to know what makes a writer tick, what influences them and the types of things that they find of interest. Instagram is a special place for doing just that, allowing authors to give readers a small glimpse of the internal world of the author.
10. Dear Handmade Life – Instagram Tips for Creative Businesses – Part One
Dear Handmade Life founders, Delilah snell and Nicole Stevenson have a passion for empowering creatives with education and a forum to help people make a living doing that they love.
Part one of a three part series on how creative entrepreneurs can use Instagram to grow their businessses. Part one focuses on community and how to engage with your target audience.
11. Better Novel Project – Writing Bloggers to Follow on Instagram
Here's a solid list of writers active on Instagram to give you loads of ideas of how to use the platform to promote your writing career.
12. Brisbane Times – How a Visual Artist Has Used Instagram to Great Success
A case study/example of artist CJ Hendry who has experienced enormous sales boost for her drawings on Instagram.
13. The [DIY] Musician – Why You Should Be Using Instagram as a Musician
It seems less obvious about how to use Instagram for musicians than for say visual artists, but there are good tips here to build you following and get new fans for your music.
+++++++++++++++
This list should get you started! We'll add more resources as we find them.
Let's connect on Instagram and then I can follow you as you embrace Instagram as part of your creative marketing. Find me here. 
If you're still figuring out social media and how you can use it to build your creative business or promote yourself as an artist I encourage you to download my free ebook Keep the Conversation Going: 65 Social Media Strategies for Performing Artists.